Facial Scrub & Peeling
Using high-frequency ultrasound (24khz), Vivre® Premium creates an effective vibration that removes excess oil, empties pores and removes dead skin and bacteria that cause bad skin.
Vivre® Premium helps you deep clean pores through high frequency vibration, removing blackheads, acne, dead skin, makeup residue and oil in pores. High-frequency vibration breaks down melanin and dark spots, helping your skin cells regain radiance and elasticity.
Vivre® Premium has three modes: cleansing, moisturizing and lifting. Through ultrasonic wave and nano-technology combined with high-frequency vibration, it will effectively work on your skin.
Before use, you need to wash your face with warm water and keep your skin wet. When you are done with the treatment, then make sure you wash your skin with cold water and use a toner to close the pores. Then use a moisturizer.
Vivre® Premium is a rechargeable, waterproof & portable that is also suitable for taking on trips.
The dust cover helps keep the scrub clean, USB charging design allows it to be used anytime, anywhere. With a computer, mobile charger for quick and easy charging.
Works best with skin care products like deep cleansing oil, cleansing foam, toner, essential oil, essence cream etc.
Features:
1. Skin scraping & peeling, removal of dead skin.
2. Deep cleansing with ultrasonic waves
3. Helps to absorb nutrients such as Vitamin C or mineral ingredients into the skin. Ultrasound is used to drive nutrients deep into the skin.
4. Helps shrink pores to increase skin elasticity and eliminate fine lines and wrinkles
24 Khz Ultrasound
24 Khz Ultrasound for skin tightening, contouring and shaping. Ultrasound increases the temperature of the surrounding tissue, which increases oxygenation to the cells, stimulates collagen protein and helps remove waste products. It also benefits the skin by stimulating blood circulation.
Deep Cleaning & Sonophores
The cleansing treatment, used on hydrated skin, exfoliates with tiny ultrasonic vibrations that remove dead skin cells, cleanse pores and loosen dirt from deep within the skin, leaving skin feeling instantly softer.
The second treatment uses the salon technique of high-frequency micro-patting (sonofores) for enhanced application of moisturizers, serums and anti-aging products.
Blue led light
Blue led light (465 +/- 3 nm), has been shown in clinical studies to be an effective way to remove acne caused by bacteria. Blue LED helps to fight acne and inflammation by reducing the activity of the sebaceous glands, so that they produce less of the oil that can plug hair follicles, leading to acne.
Positive ion therapy – deep cleansing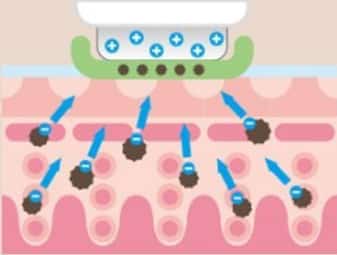 Some dirt hides deep in the cortex of the skin, and it's hard to get rid of with ordinary cleansers. When the positive ion cleaning programme is activated, the magnetic head generates dominant positive ions that attract dirt. The dirt is then drawn from the lower layers of the skin to the surface where it is cleaned with a mild cleansing fluid.
Positive ion benefits:
– Detoxifies your skin
– Increases blood circulation and oxygen levels in the skin
– Helps prevent acne
– Improves skin tone
– Smoothes your skin
Negative ion therapy – deep hydration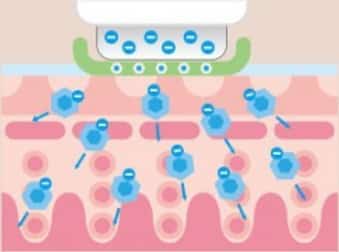 With negative ion therapy, a large number of negative ions are generated and bind to the positive ions in the skin cells. Negative ion therapy allows the nutrients in skin care products to reach the deeper layers of the skin. With the nutrients so deep in the skin, the upper layers of the skin are directly nourished.
Negative ion benefits:
– Strengthen the functions of autonomic nerves
– Strengthens collagen production
– Improve the permeability of the cell's prototype plasma membrane
– Strengthens the body's immune system
WATERPROOF
Vivre® Premium Ultrasonic Facial Scrub is resistant to submersion & exposure to water in accordance with IPX5 rating.
You can use it in the shower or while bathing without any problems. However, please note that the charging base itself is not waterproof.